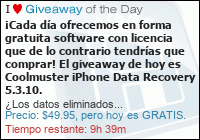 Giveaway of the Day es una página web que funciona bajo el sistema de blogs WordPress, y que ofrece un servicio singular donde los haya, desde luego. La página web ofrece la descarga gratuita de un programa de pago durante un periodo de 24h, eso sí de forma completamente legal, con el inconveniente de que no tendrás soporte por parte de los creadores del programa al no habelo pagado.
Otro aspecto a tener en cuenta es que muchos de los programas que ponen en esta página tienen una peculiaridad, sólo se pueden instalar durante las 24h que el programa esté diponible para descargar.
Además tienen otra página similar que hace lo mismo pero con juegos.